Marion High School Mascot - Stretch Murphy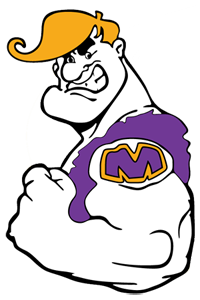 Throughout the years, Marion High School has had numerous school mascots, but none of them were ever adequate to fulfil their needs. One of the main goals of the athletic director was to finally design a mascot costume built to stay. Marion High School worked closely with Olympus Mascots to design a mascot costume that was everything they wanted to represent their school.
"Olympus Group has just been fantastic to work with. After reading about the company, we felt like Olympus Group was the number one company not only in the United States but maybe in the world, and we wanted to make sure this was as professional as any NBA or major college team would have, so we weren't going to go with anybody less than Olympus Group."
Muscleman Logo Turns Mascot Costume!
In the late 90s, an artist created the muscleman logo for Marion High School, and they fell in love with it. The school has used the logo for branding purposes online and in print materials, but they had a difficult time finding a way to bring it to life. Steve Moritz, the athletic director at Marion, was determined to find a way to turn their school's logo into a school mascot costume, and finally completed the project in 2019.
Before starting the design process, Steve had a vision of how he wanted the costume to look. He wanted the muscleman to be a full mascot costume from waist up, similar to Purdue's famous 'Purdue Pete'. The mascot performer would look like a person from the waist-down and wear regular pants, socks, and shoes, but would look like a mascot character from the waist-up. Having a costume like this allows the pants to be interchangeable depending on what type of event is being held.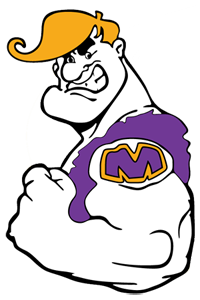 The History Behind the Mascot's Name
Marion high school's mascot is named "Stretch Murphy". The story behind the name goes back all the way to 1926. Marion High School had a student named Charles Murphy who led the team to the state championship. Being a 6'6" high school student back in 1926, Charles was considered a giant, so that's how the Marion Giants came to be. Because he was so tall, Charles's nickname was Stretch, so the school thought it would be cool to incorporate it in the mascot's name.
The school presented a few different name options to the student body and held a contest to choose the winning name. Stretch Murphy won their vote.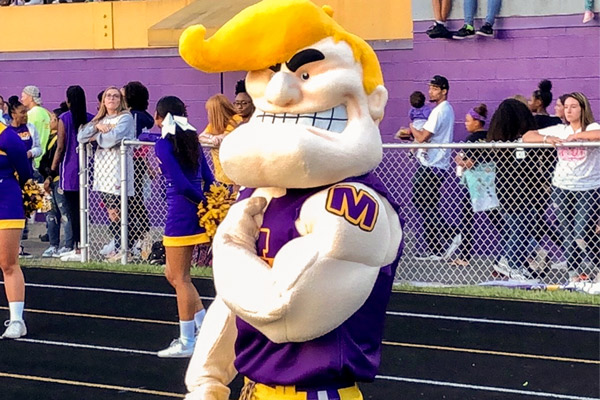 Stretch Murphy At School Athletic Events
Stretch Murphy was introduced at the first home football game of 2019. The home opener happened to be against a county rival, so almost 5,000 people were in attendance for the game and reveal of the new mascot costume. Stretch Murphy made his grand entrance to the field while riding on the back of a jeep—how cool!
The muscleman mascot is primarily used for athletic events, but certainly attends other school functions as well. He can be seen at all football games, all boys' basketball games, and all girls' home basketball games. In addition, he attends functions within the Marion community schools and community events such as the Marion Christmas parade.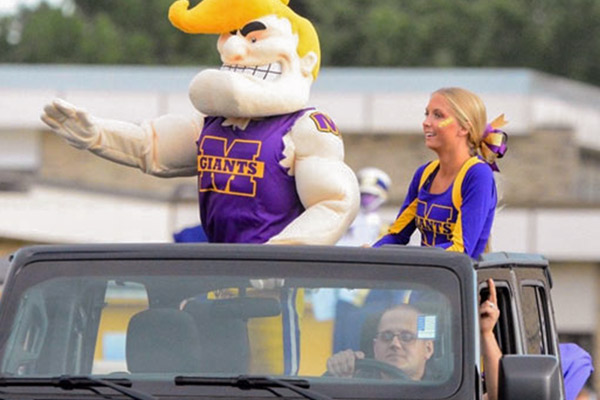 Marion's School Mascot Sets Them Apart
One of the coolest things since the reveal of the new high school mascot costume has been witnessing the interactions with the students and kids in the community. Children tend to have an infatuation with the muscleman and always come up when they see him. According to Marion's athletic director, one of the best parts of having a mascot is seeing all the kids who want to shake his hand, hug him, and take pictures with him.
Having a high school mascot like Stretch Murphy sets Marion apart from other schools—it doesn't make them better, but it makes them unique. As a community school with open enrollment, having a professional mascot costume really adds to the school's atmosphere and represents what Marion High School is about, which helps draw students in.
Marion High School is extremely happy with the impact their new mascot costume has had on their school, students, and fans. It has been everything they had hoped for and more.
"There is no replacing the top-quality work that Olympus did and the communication they had to keep me abreast of everything. It was worth all the money."
Marion High school mascot Tips
Tip 1
Have an idea of what you want before starting the design process.
Tip 2
If you're going to get a mascot costume, make sure you do it right—do your research, don't just go with anybody.
Tip 3
If you want your mascot to look professional and top quality, be prepared to pay the price.
Get Custom Mascot Costume Quote!