Marquette University - Golden Eagle Mascot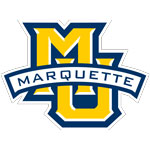 The Golden Eagle mascot has served as Marquette's official mascot since 1994. Due to an outdated look and bulky build, Marquette University decided the Golden Eagle mascot needed a makeover just before the 2018 school year. Marquette University worked with Olympus Mascots on a redesigned university mascot and new mascot apparel for the school year.
Branding With The Golden Eagle Mascot
"We know that having the Golden Eagle mascot at home sports events as well as university and community appearances has made a difference from a branding perspective. Sending the university mascot gives us opportunities to get our marketing collateral and information out. The Golden Eagle mascot is a great option to have whether on its own or part of a team."
New and Improved Golden Eagle Mascot
Some of the new university mascot costume features include a shorter beak, slimmer suit, and five-finger gloves. The new suit is slimmer and keeps the performer cooler, the new gloves allow for more dexterity, and now, the Golden Eagle mascot can change clothes!
Introducing the New Golden Eagle Mascot
To announce the Golden Eagle's new design, the university wanted to make it fun and created a press release describing the new mascot releases with a letter written by the Golden Eagle. The Golden Eagle Mascot was unveiled for the first time at an athletics welcome back barbeque and was on display more throughout the fall at different home sporting events. Since the unveiling, people have been loving the new and improved Golden Eagle mascot.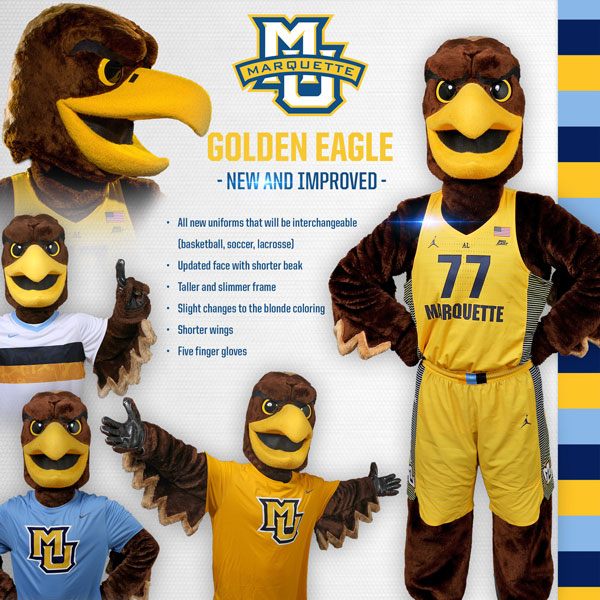 "The Golden Eagle mascot has outfits for basketball, soccer, lacrosse, and volleyball; generic branded outfits for university and community events, and even has a bowtie for weddings and things like that. The Golden Eagle mascot can wear anything that a person would wear, so we really like that feature this year."

Impacting the Community in Positive Ways
The athletic department at Marquette University takes the initiative to make the Golden Eagle mascot as active as possible at different events. In addition to athletic events, the Golden Eagle mascot appears at events by university partners, community events, and even private events. The Golden Eagle mascot is famous for throwing out t-shirts and prizes at Marquette sports games throughout the year.
Mascot Tips From Marquette University
Tip 1
Make sure you know the physical needs of the costume—is look the most important or is functionality?
Tip 2
If you are using a mesh material for the suit, know that sweat from the performer may be visible on outer clothing.
Tip 3
If your university mascot is going to be attending different events, consider the possibility for outfit changes!
Get Custom Mascot Costume Quote!