Rowland High School Mascots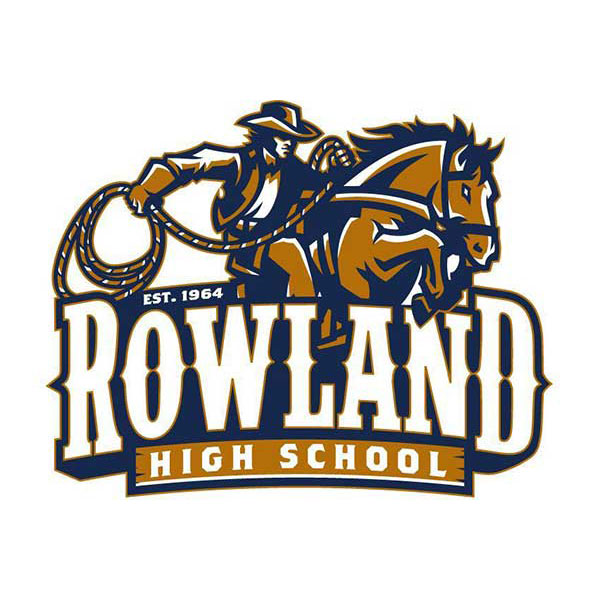 Old-time rancher, John A. Rowland, helped lasso in Rowland High School's name and inspired the school's western horse and raider mascots. Located in a Los Angeles suburb, Rowland High School has a population of around 2,000 diverse students. Rowland High School has been around the wild west since the 1960's. In recent years, the school's principal wanted to uniquely represent the Rowland Raiders, so the school mascots of Johnny and Storm saddled up for the ride.
Two Is Better Than One
Rowland High School's mascots have gone through an evolution. Before Johnny and Storm, the high school mascot was a general cowboy mascot. Since a cowboy usually has a horse, Rowland incorporated a horse mascot to stand alongside their cowboy mascot. "Johnny," the cowboy raider mascot, is named after John A. Rowland, a rancher. The student spirit group called 'The Thunder' inspired the name of the horse mascot 'Storm'. When 'The Thunder' is in the stands at a game, they are constantly cheering and clapping. Their thunderous support inspires a storm of school spirit on and off the field. Together, school mascots Johnny and Storm unite the students and staff of Rowland High School. Johnny and Storm have proven that two is better than one.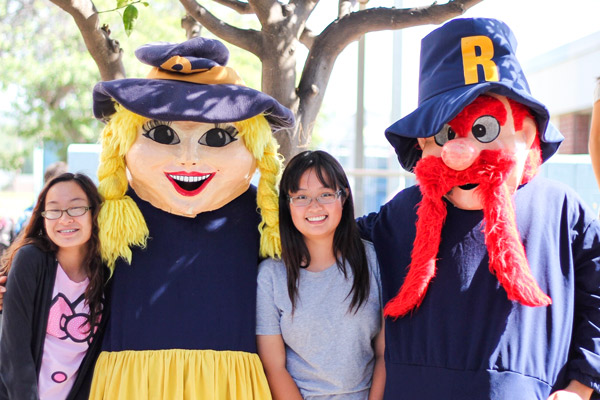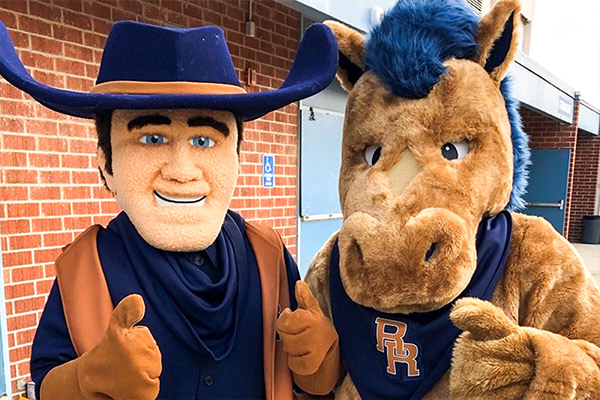 Johnny and Storm's First Rodeo
Johnny and Storm's first rodeo was Rowland High School's 2018 Homecoming Rally. Every football season, a large Homecoming pep rally is held in the school's gym. At the end of the 2018 Homecoming Rally, the school mascots galloped into the gym. The students and staff went wild with excitement for the new school mascots.

Rowland High School's Mascots In Action
Rallying The Raider's Club
Since Johnny and Storm's first rodeo, the Rally Raiders club has been established. The students in the club clean the school mascot costumes and schedule mascot appearances. Community service hours are rewarded to students that partake in the club. The Rally Raiders club has rallied up shyer students who would not normally get involved or go to sporting events. The identities of the mascot performers in the club are kept secret. To train their mascot performers and coordinate routines, the Rally Raiders club sends their more experienced performers to cheer camp with the Rowland High School cheerleaders.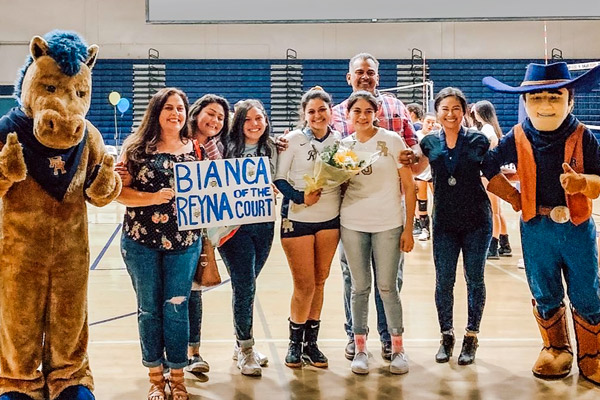 The Adventures of Johnny and Storm
Johnny and Storm are no ordinary high school mascots- they dress up for Halloween, answer office phone calls, and dance at events like no other. Rowland High School uses Johnny and Storm on social media to promote school events and to highlight student achievements. Follow Johnny and Storm on their many adventures! Also, connect with Rowland High School on Instagram and Facebook.
Lassoing up Excitement
The high school mascots have lassoed up excitement throughout the entire district and community. Johnny and Storm make consistent appearances at area elementary schools' student of the month assemblies and saddle up on top of a firetruck through community parades. The value of the high school mascots is seen through school recruitment. After seeing Johnny and Storm, elementary and middle school parents begin following the mascots' social media accounts. Johnny and Storm retain interest and encourage enrollment at Rowland High School.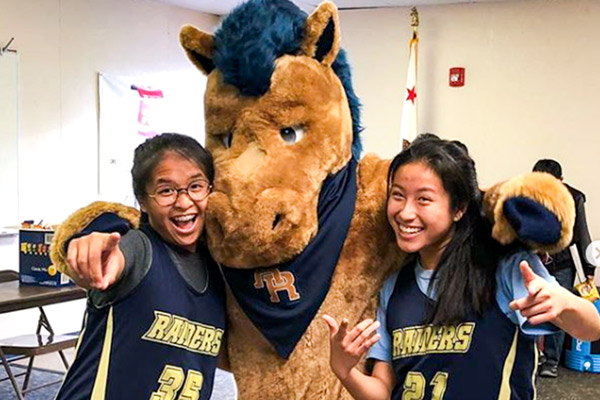 Rowland High School Mascots Hard at Work
Working with Olympus
Rowland High School enjoyed working with Olympus Mascots to create their raider mascot and horse mascot. Olympus Mascots crafts quality school mascot costumes, like Johnny and Storm, that are guaranteed to lasso up fans' excitement!
"Working with Olympus Mascots has been a great experience. Their staff made the ordering process simple and always answered any questions we had. Thanks to Olympus Mascots, our school now has two mascots that play an important role in building both school spirit and community relationships."
School Mascot Tips - Rowland High School
Tip 1
Organize a group of people in charge of scheduling performances and maintaining the mascot costumes. The Rally Raiders mascot club learned how to clean the mascot costumes and schedules school mascot appearances.
Tip 2
Involve school mascots at both school and community events- they're fun for everyone to see! Attending a wide variety of events has aided in growing Johnny and Storm's social media following.
Tip 3
Have a "bodyguard" for the mascots. Whenever Johnny and Storm make an appearance, another student ensures the performers are safe and that no one is tugging on the mascot costumes.
Get custom Mascot Costume Quote!