Texas Roadhouse Mascot - Andy Armadillo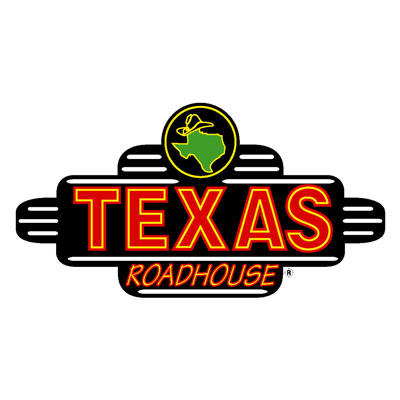 Andy Armadillo is the beloved Texas Roadhouse mascot. The armadillo mascot has been creating smiles since the establishment of the first Texas Roadhouse restaurant in February of 1993. The founder, Kent Taylor dreamt up the Andy Armadillo mascot to embody the restaurant chain's family concept of making people smile, creating experiences, and having fun. With the restaurant's mission statement of "Legendary Food, Legendary Service," Texas Roadhouse's mascot of Andy Armadillo is a legendary brand representative!
"One of my favorite things about Andy is that he doesn't talk, so he can't get in trouble. We don't have a national spokesperson, so we take Andy very seriously as our brand representative."​​

Andy as a Brand Representative
Texas Roadhouse doesn't advertise on a national level, so Andy is a very cost-efficient way to promote the brand. Texas Roadhouse takes Andy Armadillo very seriously as a brand representative and makes sure that he embodies everything that the company stands for.
Andy's Greatest Adventure
Texas Roadhouse's most memorable story about their beloved mascot is Andy's experience throwing out the first pitch at a Cincinnati Reds baseball game. While mascots aren't your typical first pitch thrower, Andy was an exception. In order to qualify for throwing out the first pitch, he had to throw three practice pitches – proving himself before going out onto the field. When he finally threw the first pitch, he ended up making it all the way to the backstop! Afterward, all three of the Reds' mascots ran out to celebrate with Andy, which made it an unforgettable experience for the Texas Roadhouse mascot.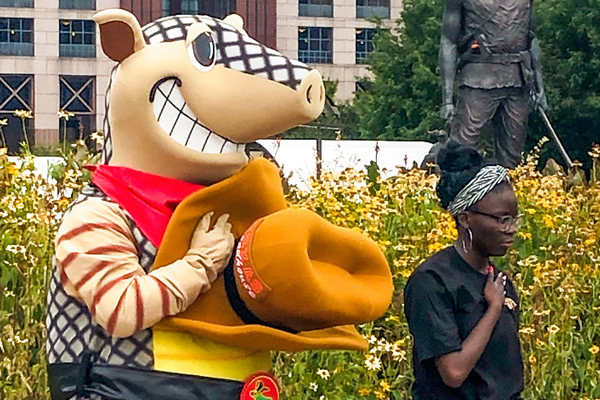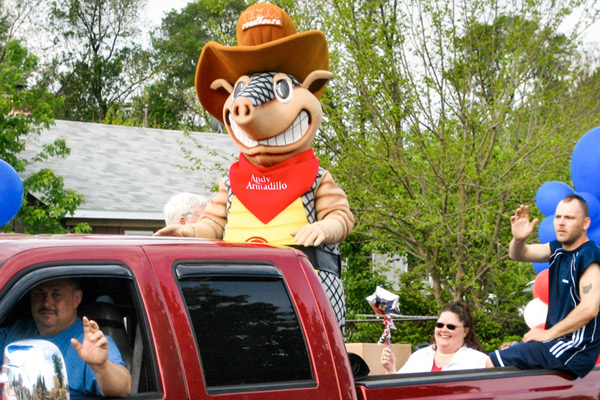 Andy's Commitment To The Community
Texas Roadhouse is very proactive about getting Andy out in the community at events. Andy has made appearances at schools, sports games, charity events, and a variety of others; Andy Armadillo even has his own reading program for kids. People tend to gravitate towards him since he's so unique and memorable. Having a mascot also provides an opportunity to create merchandise revolving around the mascot such as plush toys, bobbleheads, and other cool stuff.
Good Marketing Makes Andy Armadillo an Icon
"The Texas Roadhouse mascot is pretty much everywhere. He is certainly depicted on murals and the menu, but I'd say his biggest benefit is outside the four walls—schools, baseball games, community events…we're really using him to connect with children."
— Travis Doster, Vice President of Communications, Texas Roadhouse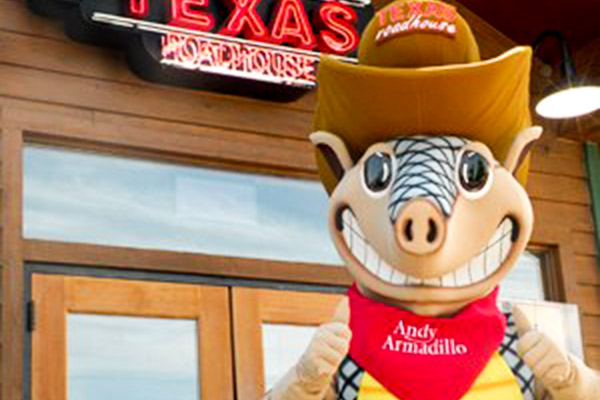 "At Texas Roadhouse, we strive for legendary with our food and service. Legendary is not just good or great. It's the best. Our experience with the Olympus team has also been legendary!"
Texas Roadhouse mascot Tips
Tip 1
Be unique. From the name to the costume, set your brand apart from others with your mascot.
Tip 2
Don't go cheap. If your mascot looks cheap, you are communicating that your brand is cheap.
Tip 3
Not every brand is mascot worthy. Don't just do it to do it, make sure you have a plan to support it.
Get Custom Mascot Costume Quote!